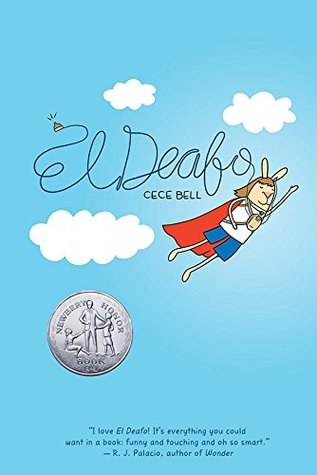 El Deafo by Cece Bell.
Amulet Books 2014.
Starting at a new school is scary, even more so with a giant hearing aid strapped to your chest! At her old school, everyone in Cece's class was deaf. Here she is different. She is sure the kids are staring at the Phonic Ear, the powerful aid that will help her hear her teacher. Too bad it also seems certain to repel potential friends.
Then Cece makes a startling discovery. With the Phonic Ear she can hear her teacher not just in the classroom, but anywhere her teacher is in school–in the hallway…in the teacher's lounge…in the bathroom! This is power. Maybe even superpower! Cece is on her way to becoming El Deafo, Listener for All. But the funny thing about being a superhero is that it's just another way of feeling different… and lonely. Can Cece channel her powers into finding the thing she wants most, a true friend? —Publisher's comments.
Besides making many of last year's Best-Of lists, Cece Bell's El Deafo has also been picking up significant Honors and Awards. You'll hear it described as important, and the insight Bell is able to share from her childhood is, indeed, valuable. I love just how familiar the character Cece is, despite her bunny-like appearance. Cece is flawed and more than occasionally frustrated and frustrating.
Many will find Cece humorous; and likely charming when she begins to identify with Batman and creates a super-heroic identity all her own in El Deafo. I think I either under- or over-identified with her earnestness to be normal and befriended. The angst felt stretched and I desired a few chapters fewer. When we tell our children that it may take time, trial and error to find a good friend, we usually hope for and suggest the BFF will show up within two errors. However, it really does take a while to learn how to communicate, to read others' lips (words/actions) and to articulate for ourselves.
El Deafo is really well thought-out. It wasn't an easy read for me, entertainment-wise, but I could immediately appreciate just how well-crafted it is, how coherent it continues to be into second and third readings. I loathe to fall into the fallacy of guessing authorial intent, but the immovable yellow box of text manning the upper edges of panels had to make sense of itself. It otherwise needed to move. (And if you find it difficult to deal with in the first half, you'll learn to adjust to it in the end.) I questioned the choice of a bunny and the adorable-ness of the artwork in a book I wanted to pitch to the upper-grade-schoolers reading Raina Teglemeier's Smile and Sisters. I understand the genius behind choosing an animal that is all about their ears in a book about hearing. I can get how seeing yourself as different could manifest in a decision to use an 'other.' For readers who are moving away from perceived childishness, it reminds us that one thing that transcends childhood is fear of isolation and loneliness. Okay, that was depressing—and the book is not depressing. El Deafo is just quite realistic and in need of the anthropomorphic.
El Deafo is going to be educational. El Deafo is going to remind people that graphic novels make for great literature for young people—especially the young grade-schoolers who won't mind this becoming a part of their summer reading lists. It is going to make us all more thoughtful about what and how we communicate with one another. We can get creative and imagine the ways and means to cope with difficult situations.
Spoilers: Cece does find a healthy friendship by novel's end. She learns a great deal about herself and others along the way. She's pretty special as characters go, because she is so incredibly (painfully, at times) normal.
——
Of note: "A Note from the Author" is excellent reading as well, so do not forgo it.
recommended: for readers of Teglemeier Smile and Sisters, Hatke's Zita Spacegirl, and Gownley's Amelia Rules!  It will likely appeal more to readers of issue-driven books like Wonder (Palacio), Out of My Mind (Draper), and Mango-Shaped Space (Mass), but I wouldn't eliminate those leaning toward Fantasy.
{images are Cece Bell's}