2014: was a big year for me. I finally finished that Undergraduate Degree in Literature. And now I have a mild-mannered job as a Lead Bookseller in a Children's Department. Yes, Library/Information Science is still a thought. It just found itself buried in debt is all. In the daily grind of recent months has been the competition of time and energy. For some reason, I've not only work and reading and reviewing, but a family who likes to spend time with me. I also desire some in-person friends.
Even with the pinch of time, I've managed some good reading. I can't keep up with the listing and reviewing of picture books and comics read. You'll be seeing more of the mini-review format in coming months. Christmas brought me a glorious stack of books!! [Juices and Smoothies Encyclopedia from iDrink.com (ThunderBay Press 2014), The Slow Regard of Silent Things by Patrick Rothfuss, All The Light We Cannot See by Anthony Doerr, Station Eleven by Emily St. John Mandel, The Art of Asking by Amanda Palmer, Colorless Tsukuru Tazaki and His Years of Pilgrimage by Haruki Murakami, and Silence Once Begun by Jesse Ball.] So so so good. And I'm rather proud of the breadth in the modest pile of brilliance. I also have a few ARCs to dive into: Nick Hornby's Funny Girl, The Magician's Lie by Greer MacAllister, and Spinster by Kate Bolick.
And I hope you've experienced some of the marvelous films released in 2014. I'm looking forward to Chappie (Neill Blomkamp), Age of Ultron (Joss Whedon), Mad Max: Fury Road (George Miller), Kingsman: The Secret Service (Matthew Vaughn), the wrap-up of The Hunger Games, Jupiter Ascending (Wachowski's), Tomorrowland (Brad Bird), Crimson Peak (Guillermo del Toro) … The Martian (the book being one I really want to read!).
DIVERSITY: I began 2014 with a personal challenge to read only authors and/or illustrators of color, comics excluded. Other caveats included reading assignments for school or work. Fortunately, University settings allowed for plenty of reading within my challenge; work, unsurprisingly, less so. As I was collecting books off the shelves for my own (non-corporate dictated) display for January, I frowned at how few books by African American creators comparatively and how few we carry in store. I also began to consider how many of the book reviews shared in Friday links or read this year are authors of color from the United States or even North America.
I am going to continue a challenge to read with diversity in 2015 and continue with a greater consciousness toward not just imported and/or translated works, but those publishing North American authors as well.
In the vein of my challenge, I queried Christian Fiction (a market I tend to avoid, honestly) and their lack of diversity. My primary concern is the Fiction and Empathy relationship. I've started a couple of essays, spurred in part by the shrinking and closing of a handful of fiction branches in Christian Publishers. Non-fiction is thriving well enough, but again, that Empathy problem… I plan to return to my thoughts on this, my writing on this, in 2015.
FAVORITES: I lost count of how many books read in 2014. I would depend on my Goodreads account except I haven't been keeping up there either. I can easily count to 100 and figure it surpassed, but I read a large quantity of picture books (ala Picture Book Month in June). I do recall favorites, so I'll have to bypass the Statistics portion of the Year End Wrap-Up this time.
Works of Fiction (non-juvenile):
Colorless Tsukuru Tazaki and His Years of Pilgrimage by Haruki Murakami (Knopf 2014). "Murakami's genius is in that ending. He draws us out of another one of Tsukuru's fugue-like states, this one listing among his lovely self-reflections, when he perches us once more on that brink between life and death. Murakami presents us with a character no one should have ever doubted, not even Tsukuru himself. It is quite brutal. It is perfect." (my review)
The Thing Around Your Neck : a collection of short stories by Chimamanda Ngozi Adichie (Knopf 2009). "The Thing Around Your Neck is not to be dismissed as "women's fiction" as there is much to realize about social & personal situations that go unobserved, let alone considered and discussed. Much of Adichie's success in provoking such thinking is in how she works with characters, not caricature, sampling representatives or some such didactic alienating force." (my review)
Silence Once Begun by Jesse Ball (Pantheon 2014). "Jesse Ball's provocation can be both frustrating and an absolute delight; which is how I could describe the conclusion. Ball makes the narrative personal and familiar, investing the reader in a summation that is as tidy as the novel will allow while yet demanding its lingering effect. […] he does compel the reader to ask what it is we wanted to believe happened when the world turned upside down, when the expanding silence entered the room and asked us to wonder why. (my review)
Juvenile/YA Fiction and Non-:
The Iron Trial by Cassandra Clare and Holly Black (Scholastic 2014), primarily because they were able to excite my interest in the Juvenile Fantasy Adventure story again. They have complicated protagonists royally and threw twists I did not see coming.
Brown Girl Dreaming by Jacqueline Woodson (Nancy Paulsen 2014). A biography written in accessible verse and strongly threaded themes.
The Magic Mirror by Zetta Elliott (Rosetta Press 2014). "The Magic Mirror is the first person narrative of Kamara's struggle, journey and discovery, but I get the feeling hers is one that can be shared. The Magic Mirror, like the most precious of books, can be a safe, empowering, loving home to inspire one to become hopeful and courageous–to know they are beautiful." (my review)
More Than This by Patrick Ness (Candlewick Press, 2013). "This isn't a novel you escape into. There is too much real life, too many ghosts. But Patrick Ness is brilliant, you should know that—you can expect that, but suspend yourself of anything else as Ness' work is pushing against your usual Teenage fare, asking the question and understanding that there is more than this." (my review)
Graphic Novels/Comics:
ADULTS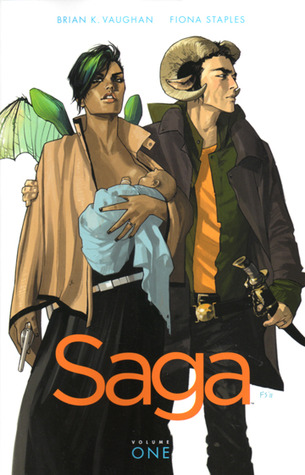 Saga (volumes 1-4) by Brian K. Vaughan and Fiona Staples (Image Comics 2012) "this is one of those comics to experience to really believe just how excellent it is. The timing of the wit, the dead-pan delivery, the provocative and absolute irreverence… I was sitting alone in a quiet house with a dog staring at me as I laughed like a maniac." (my review)
Here by Richard McGuire (Hamish Hamilton 2014). enthralling.
The Shadow Hero by Gene Luen Yang (First Second 2014). beautiful and humorous; should I expect less when it comes to this creator?
The Gigantic Beard That Was Evil by Stephen Collins (Jonathan Cape 2013). It reminds me of Jeff Lemire's and Chris Ware's work, all quiet and subtly crafted. The fable isn't subtle, but it needn't be to remain successful when art work is so perfectly finished.
JUVENILE
Battling Boy by Paul Pope (First Second 2013). "Paul Pope has hit the ground running with an Eisner for Battling Boy. Battling Boy and Aurora West promise and fantastic series of adventures to grow up with. Too, the series returns us to the warm fuzzy of old school superhero aesthetics, while being all shiny and new and clever with it." (my review)
The Return of Zita the Spacegirl by Ben Hatke (First Second 2014). "The Return of Zita the Spacegirl was always going to be bittersweet, and Hatke does not disappoint. He writes in many returns and it is completely satisfying. He also writes a gorgeous twist or two. That ending is fantastic. I may have called Hatke a naughty name, but it was with the utmost affection as I laughed out loud and closed the book." (my review)
Jane, the Fox & Me by Fanny Britt, and artist Isabelle Arsenault (transl by Christelle Morelli & Susan Ouriou, Groundwood Books, 2013). "Britt and Arsenault achieve so much in 101 pages. Jane, the Fox & Me is a richly textured and engrossing story that tells all too familiar stories of the relationships so many of us find in the world, our home, our selves…and our books." (my review)
Of course Kazu Kibuishi's latest installment of the Amulet series makes the cut.
Picture books:
Rules of Summer (Arthur A. Levine 2014). "The dark and the whimsical coincide, the summery tones in the color also have texture, and it opens with a more ominous tone than it closes.[…] We understand how much is left unknown and unspoken and the genius of the book is how much it reflects these notions. There is a very very clever brain behind all the beauty on the page." (my review)
Nasreddine by Odile Weulersse, Illus. Rébecca Dautremer (transl from FrenchKathleen Merz, Eerdmans 2013). "Nasreddine is worth picking up just to admire the cover and the artwork inside, but you should go ahead and read the delightful tale Weulersse has recorded inside. This one will go a long way for children and adults alike because no matter what young Nasreddine does, someone in the public sphere has something critical to say. Can such an old figure of wisdom in lore be any more timely?" (my review)
What Do You Do with an Idea? by Kobi Yamada (Compendium 2014). Beautiful in rendering, but it is the idea that is the main attraction. What do you do with an idea? You protect and nurture it, even if and when someone tells you its best discarded. … so necessary for young and old alike, for the creative, innovative souls.
The Adventures of Beekle, The Unimaginary Friend by Dan Santat (Little, Brown & Co. 2014). "Santat renders the overlap of the rich inner & outer life beautifully. The sweet hopefulness resides just this side of the melancholic, not yet ready to surrender to the disillusionment of childhood in modern life. Fears of being left out, last-to-be-picked, loneliness are buoyed with the optimism of youth and the experienced voice of a wiser and practiced storyteller." (my review)
My Father's Arms are a Boat by Stein Erik Lunde; illus. Øyvind Torseter (transl from Norwegian by Kary Dickson, Enchanted Lion Books 2012) "My Father's Arms are a Boat is a quietly powerful book. There is impact in the spare images yet intimate details of the exchanges between father and son. There is nothing easy about this picture book constructed of paper cut out and line work, complex dimensions and layers. The tenderness in the language is breathtaking." (my review)
Film:
Interstellar (Christopher Nolan 2014). an epic love story that calls to mind the brilliance of Kubrick's 2001: A Space Odyssey and a loving father's fondest wish for his daughter in a world dominated by men. It is a film of chilling precision, incredible scope, and startling warmth in vision.
The Broken Circle Breakdown (Felix van Groeningen 2012). "While we can write a synopsis in which the two protagonists are typed representational, the narrative is fairly muddied by human complexity nonetheless. The actors carry off self-possessed and memorable characters and they arrive at a decision of what they are able to abide in a relationship that is not only their own, but has their daughter ever in mind. Have those handkerchiefs ready. Listen and watch as they sing hymns amidst a disintegration of faith. The courage in the characters is marvelous. And, of course, there is the blue grass." (my review)
Her (Spike Jonze 2013). "If you have to watch one film about what it is to be human, Her is it; after all, it is about operating systems." (my review)
Grand Budapest Hotel (Wes Anderson 2014). grittier and better than I've ever seen him. The film is exquisite in its attention to detail and in the casting of Ralph Fiennes.
Snowpiercer (Joon-ho Bong 2013). Incredible…the film houses everything I love about South Korean action films, its unpredictability being first and foremost. A fantastic cast and provocative ending. (subtitles are a must).
The Zero Theorem (Terry Gilliam 2014). This one is phenomenal, and I'm wondering now how I missed reviewing this one. Its for fans of Gilliam, sure, but also sci-fi fans of the colorful and strange. Christoph Waltz is not to be missed in this role.
Television:
The Fall (Alan Cubitt 2013, w/ Gillian Anderson). "The success is in how disturbing the results are. Whether good-guy or bad-, the characters are terrifying because of such an emphasis on realism." (my review)
True Detective (Nic Pizzalato 2014). Dark and disturbing and it involves a lot of talking. I think the "true" parts will unsettle and annoy viewers of the traditional crime-drama. Those looking for some grit and philosophy should have this one queued.
BBC's Top Gear —we've been late-coming and binge-watching. We are not "car-people" or "gear-heads" but were do love the comedic.
The Wrong Mans (Jim Fields Smith 2013). "The actors are obviously having a good time with this little comedy, but the camera-work and editing are just as playful. The Wrong Mans is a wild ride, completely silly and wonderful." (my review) [yes, we've begun viewing series 2 on Netflix]
Miss Fisher's Murder Mysteries Series 2. Yay! so glad this was back. (reviewed)