A few links to reviews, articles, sites, etc. of the Diversity in Literature concern from around a small portion the book blogosphere, accumulated over the past few weeks…
—–Reviews—–
—Sueyeun Juliette Lee reviews Dawn Lundy Martin's new book, Life in a Box is a Pretty Life (Nightboat Books 2014). "[Martin] offers smart, frank, actual living thought that seeks to destabilize and illustrate some of the ways that black female subjectivity continues to be framed by mis/conceptions and mis/representations of the black female body." […] "A book-length work in hybrid prose and lyric sections, Life in a Box is a Pretty Life is not always 'pretty'."
>>A few delightful reviews from Swapna Krishna:
—A Bollywood Affair by Sonali Dev (Kensington Books 2014). "A Bollywood Affair is a dramatic novel, with its premise of child marriage, but it's also a sweet romance full of culture. Mili is a great main character, and readers will root for her and Samir as they encounter obstacles on their road to eventual (if inevitable) happiness."
—The Scatter Here is Too Great by Bilaal Tanweer (Harper 2014). "In this series of interconnected short stories, Bilal Tanweer depicts a day in the life of modern citizens of Karachi, Pakistan, and shows how each of them are affected by a bomb blast at the Karachi train station. Tanweer's debut, The Scatter Here Is Too Great, shows a lot of promise through the way it brings modern-day Karachi to life and shows the resignation and determination of the many characters who populate the novel. The stories themselves can be uneven from one to the next, but fans of South Asian fiction should definitely consider picking this collection up."
—I am China by Xialou Guo (Nan A. Talese 2014). "Guo has created a vivid portrait of music in modern China in I Am China, juxtaposing Jian's fascinating story against the personal journey of Iona. Guo balances between these two narratives well, crafting fascinating personalities that leap off the page and draw the reader fully into this immersive tale."
—Krishna's (earlier) review of another Guo novel, Twenty Fragments of a Ravenous Youth (2008). "Though the novel is very short, it is best read slowly. Reading a fragment or two and then putting the book down for awhile allows the reader to reflect on Fenfang's life, on her innocence compared with the lack thereof in the Beijing that surrounds her. Though there is a lack of urgency to propel the story forward, Twenty Fragments of a Ravenous Youth is still a rewarding glimpse into life in modern-day China."
>>I also love subscribing to ShelfAwareness for reviews. (You may have to scroll through the linked page for the review in question.)
—Nick DiMartino reviews A Map of Betrayal by Ha Jin (Pantheon 2014). "In this compassionate study of a man caught between two wives and two countries, a lonely Chinese spy is forced to leave his young wife and remarry in the U.S." […] "Written a cool, factual, unadorned style, A Map of Betrayal is a quietly humane, painstakingly detailed portrait of an idealistic man who tries to set himself morally apart. Ever present in this dense, compelling tale are provocative questions about the nature of patriotism: When do you betray your country? When does your country betray you?"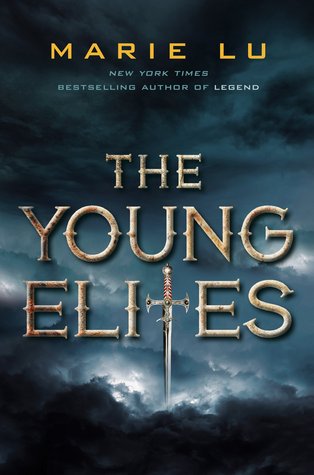 –Adam Silvera reads The Young Elites by Marie Lu (). "A Game of Thrones meets X-Men in this 14th-century fantasy from Marie Lu (the Legend trilogy), in a world where 'fear is power'." […] "Lu's compelling new novel introduces morally complex characters (the Young Elites are not fully innocent, and there are depths to Adelina's darkness and layers to the cross Teren bears). No one is safe in the book's final conflict, and the many twists, cinematic battles and the overriding epic fantasy will keep readers hooked for book two, which teases to be a game-changer."
–Kyla Paterno reviews Christopher Paul Curtis' The Madman of Piney Woods (Scholastic 2014). "Curtis tackles racism, prejudice, alcoholism and child abuse in startlingly honest light. Benji and Red are at an age where they're grappling with how to confront these issues. The truth behind the Madman brings to light further issues of war and heroism. Despite the gravity of these themes, Curtis balances the tale with humor and levity. His sense of place, particularly in Piney Woods, will enchant readers. The author captures the spirit of adventure and opportunity that comes with being young, as well as his characters' innate sense of justice."
>>Others…
—Estella's Revenge reads White is for Witching by Helen Oyeyemi (Picador 2009). The book's "blurb makes some big promises, and the book only partially follows through. Miranda's story is interesting. She's all screwed up from the loss of her mother, and rightly so. The house seems to have an even more destructive effect on her, but is it really the house or is Miranda just crazy? Signs point to both."
—Little Red Reviewer reviews Bridge of Birds by Barry Hughart (Del Rey 1985). "A gloriously fancifully told story, told so smoothly and harmoniously that you don't realize Hughart's mastery of the art until the final page. From the first chapter I was drawn to Number Ten Ox's authentic charm, and then to Master Li's intelligence tempered with crassness (or is it the other way around?). Hughart perfectly balances poetry, humor, mayhem,  near death, lightheartedness, flirtations, mythology, and crazily wonderful characters,Bridge of Birds is one of the most magical, most enjoyable books I've read all year."
—Robin Smith (for BookPage) reviews Kekla Magoon's How It Went Down (Holt 2014) as their November Top Teen Pick. "These hundreds of vignettes, with their varying narrators and conflicting perspectives, could leave the reader confused, but Magoon keeps a firm hand on her story. We may never find the answers we're looking for, but after reading this book, we will look at the headlines with a much more critical eye. This is not only a book to read in one gulp; it's a book that asks you to slow down and read it over and over again."
—Kirkus also (star) reviews Magoon's novel. "As each character reflects on Tariq, a complex young man is revealed, one who used his considerable charm to walk the tightrope of life in his neighborhood. Magoon skillfully tells the story in multiple, sometimes conflicting, voices. This sobering yet satisfying novel leaves readers to ponder the complex questions it raises."
—Grace (Books Without Any Pictures) reads N.K. Jemisin's The Killing Moon (Dreamblood, book 1; Orbit 2012). "Tired of fantasy set in some tired permutation of medieval Europe?  The Killing Moon by N.K. Jemisin is the book for you!  The story takes place in a fantasy world that is loosely based on ancient Egypt, but with some major differences.  It's not the stereotypical pharaohs and mummies and cat-gods and tombs, but rather it borrows the social structure itself."[…] "When I first discovered N.K. Jemisin through her Inheritance Trilogy, I was blown away by her writing and by the worlds that she created.  The Killing Moon surpassed all of my expectations, and is easily my favorite of her books thus far."
—–Sites, Lists, etc.—–
—Theresa Mlawer writes about "Finding New Voices in Children's Books in Spanish" for Publisher's Weekly. She provides a list you will want to have. "Many award-winning Spanish-language authors—whether they live in the U.S., Latin America, or Spain—are not well known by American book buyers, though they should be. We have compiled a list of some of the outstanding authors and illustrators whose books U.S. buyers should be on the lookout for."
—Swapna Krishna shares "South Asian YA: 5 Titles" over at BookRiot. "I feel like each of these deals with a different aspect of the South Asian teen experience; I can't tell you how much I wish these books had been around when I was growing up, but I've certainly enjoyed finding and reading them as an adult!"
—American Indians in Literature shares "Oyate's list of Thanksgiving Books to Avoid." "Given the number of books that are published every year about that holiday and the ways that Native peoples continue to be misrepresented in children's books, you would be right to guess that their list is long."
—–Articles—–
—Alison (Un-Calibrated Centrifuge) shares her valuable perspective in "Diversity Reading Problematic." "As the diversity movement is gaining steam (in large part from the publicity garnered by We Need Diverse Books and their campaign), so is the inevitable backlash. "But what about all the white people?" all the white people are saying. "Diversity by definition means 'variety' so why are we being excluded?"*"
—Harriet's blog: "The new issue of Lana Turner is out, and standout among #7′s many significant contributions circling around the avant-garde is Cathy Park Hong's piece, "Delusions of Whiteness." Right off, CPH makes her point: "To encounter the history of avant-garde poetry is to encounter a racist tradition." […] "Then it gets to the real questions: 'Shall we continue our headcount of reading venues and anthologies? Shall we politely speak up and beg for more representation, say a few more panels on forgotten subaltern poetry for the next wax museum conference? Shall we again rehearse these mechanical motions under the false diplomacy of inclusivity?'"
—Marjane Sartrapi on Dostoeyevski via NYPL Live.
—Nancy Powell interviews Val Wang (author of Beijing Bastard, Gotham 2014)) for ShelfAwareness. "I went to China to run away from family, and I end up getting closer. There's a lot of irony in that. I really resisted learning Chinese when I was little, and now I send my sons to a Mandarin-immersion daycare. Having kids, I realize that I'm just a node in this really long story that's unfolding. It made me feel the importance of staying connected to China and imparting to them the language and parts of the culture I feel are worthwhile and positive. Also, with my grandmother passing away, I realized I'm the one who carries the culture and traditions. I'm the one who decides what should keep going. That was a pretty profound shift."
—Horn Book interviews Sharon G. Flake (Unstoppable Octobia May). "I've always wanted to write a book set in the fifties. It was, I think, the best of times and, simultaneously, the worst of times for many African Americans. As a nation we were feeling optimistic about a lot of things, and our music, dances, modes of dress, and outlooks often reflected that. Blacks were no different from whites in that respect. Yet so much injustice still plagued the nation — much of it around race, gender, equity, and access to power.
"I wanted to capture both the optimism of the times as well as the complex nature of race relations in our country — along with the promise, and challenge, America still held for both African Americans and women. A tall order, but one I believe I've accomplished."
—Little Red Reviewer interviews Ken Liu (author, translator). "He puts out more high quality fiction in one year than most authors put out in ten. Highly prolific and brilliantly talented, he's got the awards and nominations to prove it. One of my favorite short fiction authors, Ken is also friendly and humble."–LRR
"I wouldn't quite say that it's "important" to read fiction from other parts of the world—some readers might think that we're suggesting that they read fiction from other parts of the world as a kind of literary vitamin because it's "good for you."
"I think it's just fun and stimulating and enjoyable to read fiction from different literary traditions and to see glimpses of the full range of human imagination and understanding of the world."–KL
—One I just found from September: "A Rough Guide on Where to Find South Asian Lit" by Swapna Krishna (for BookRiot). It has some recs. "Lately I haven't been thrilled with the breadth of South Asian literature that mainstream publishers are putting out. There have been a few interesting novels here and there, but these books are often (a) by big name authors (think Salman Rushdie or Jhumpa Lahiri), (b) difficult if you're looking for lighter reads or novels that don't fall into the literary fiction category (The Last Taxi Ride by A.X. Ahmad, a great crime thriller that was released earlier this year, is a rare example of this), or (c) both.
"So, if you're looking for South Asian novels, where do you go? The surprising answer? Very small, independent, and often ebook-only publishers. It seems as though these publishers are taking risks where the mainstream publishers aren't, putting out quality South Asian fiction that doesn't necessarily fit into any mold."
—7 Impossible Things Before Breakfast hosts an Interview with Olivia Chin Mueller (up-and-comer illustrator). "Right now, I am working on building my portfolio and looking for jobs. I'm hoping soon I will be lucky enough to support myself solely on illustration. But right now I'm relying on income from my Etsy shop and commissions. I've also been on the hunt for an artist rep, and things are looking good. I am crossing my fingers things keep on the right track."
—K. Imani Tennyson (at Rich in Color) writes about "The Thorny Issue of Race." "As many of us writers gear up to participate in the craziness that is National Novel Writing Month, I think it's a good time to think about the characters we create and why some of us might be hesitant to write about race. This next excerpt from my paper,  Diversity in Young Adult Literature, focuses on this very topic."